Friday 8/02 - Bo Luc - on the deck 5:00pm
Saturday 8/03 - Bill Long - on the deck 4:30pm
Saturday 8/03 - AC Playground - Inside 8:00pm
Sunday 8/04 - Bill Long - on the deck 4:00pm
Friday 8/09 - Bo Luc - on the deck 5:00pm
Friday 8/09 - Bill Long - Inside 8:00pm
Saturday 8/10 - Bo Luc - on the deck 4:30pm
Saturday 8/10 - AC Playground - Inside 8:00pm
Sunday 8/11 - Doug S. - on the deck 4:00pm
Friday 8/16 - Brett Mitchell - on the deck 5:00pm
Friday 8/16 - AC Playground - In 8pm
Saturday 8/17 - Joe Fikany/Craig Shannon - on the deck 5:00pm
Saturday 8/17 - Keith McCurdy - Inside 8:00pm
Sunday 8/18 - Bo Luc - on the deck 4:00pm
Friday 8/23 - Bill Long - Inside 8:15pm
Friday 8/23 - Doug S. - on the deck 5:00pm
Saturday 8/24 - Rumor Has It - on the deck 5:00pm
Saturday 8/24 - Bill Long - Inside 8:15pm
Sunday 8/25 - Rumor Has It - on the deck 4:00pm
Friday 8/30 - AC Playground - on the deck 5:00pm
Friday 8/30 - Keith McCurdy - Inside 8:00pm
Saturday 8/31 - Bill Long - Inside 8:15pm
Saturday 8/31 - Doug S. - on the deck 5:00pm
Sunday 9/01 - Bill Long - on the deck 4:00pm
Don't forget to post your comments on our guest book! we'd love to here from you!! http://www.mikesonthewater.com/guestbook.htm
New Deck Photos added the gallery..

Click here to see
http://www.mikesonthewater.com/gallery/Deck-07-30-2013/index.html
Mike's Decal / Sticker!
Purchase one today and by doing so you will be helping out one of Mike's local charities.
MikeStickers.com is not part of Mike's on the Water, they just happen to have the same
name. www.MikeStickers.com designs and prints all of Mike's on the Water signs,
graphics, canal ad's and business banners for the restaurant. Pick one up at the bar or on line.
All stickers purchases are through www.MikeStickers.com website.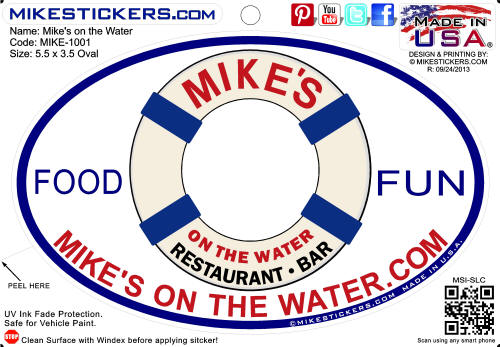 Click here to get your sticker!